Six Lasers and at least that many Aeros came out on Sunday for a sunny afternoon of practice racing in 8 to 15 knots of southwesterly.  Dan Falk and Andrew Miller did a great job on race committee blasting out half a dozen quick races in two hours over a variety of courses and even threw in some starboard roundings and reaches.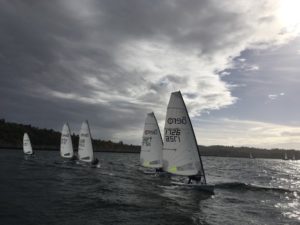 Both the loaner boats (Laser and Aero) were out and there were some first time frostbiter's introduced into the hearty club.  By 3:30 the group had their boats put away and were enjoying lasagna, caesar salad and a few cold ones thanks to Jay Leon! 
Along with some lively conversation, we all appreciated Dan Falk's quick chalk talk covering a variety of boat handling skills and tactics that when put to practice will prove extremely helpful.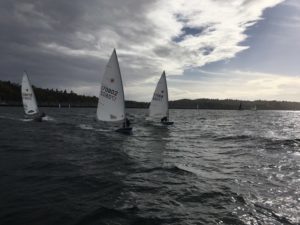 We go out again on Sunday, November 12th at Shilshole at noon. This will be  good warm up the week before the Turkey Bowl Regatta at CYC.  Make sure to put an "X" by your name in the 11/12 column if you plan to be there so we can make sure there is enough food for everyone.
Here is a link to the sign up sheet.
Also, make sure to sign up early for Turkey Bowl via the CYC Seattle website http://www.cycseattle.org/event/turkey-bowl_2017/
so we can attract a big turn out — maybe even our friends from Canada! (the sign up link is not live yet, but we will send out a notice as soon as we see it).
See you on the water!
Mark Ross and Jay Leon