Mark Ross can not exaggerate how good the sailing was on Sunday.  And to see 20+ singlehanders out there was, well, just great. Young, old, male, female in all the fleets. By all indications there are a bunch of Lasers gearing up for Districts coming up this weekend with good Radial, Standard and 4.7 fleets already signed up. If you haven't, please read the notice of race and register. Of course, Aeros and other dinghy fleets are going to be racing too. Event site is here. –KH
(It's worth noting that 2-time Laser Grand Master World Champion Bill Symes and Olympic hopeful Hanne Weaver have signed up to race! Spread the word. )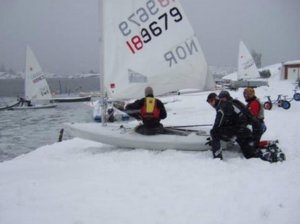 Frostbite #2 RECAP Sunday, November 11, 2018
By Mark Ross
A perfect Frostbite race day, no doubt about it. The consistent 15-18 mph breeze out of the north brought cool air, nice rolling waves, sunny skies and by the end of the day, tired legs. Even though a number of people from both Laser and Aero classes missed frostbite to participate in the annual Round the County big boat race, the Frostbite attendance included 12 Laser (standard and radial), 10 RS Aero and a contingent of Opti sailors. 
Doug Stumberger and Scott Malone, the RC volunteers of the day, set a great course with the windward mark off Meadow Point and the leeward mark, of all places, well downwind…who'd of thunk!! The last two of about 6 twenty minute races, to the joy of the Aero sailors, included a perfectly angled long reach mark, and I promise you the reaches were welcome to the Lasers as well. Who doesn't like a great reach in that kind of wind!?
As usual, competition is strong in both Aero and Laser fleets. Eric Becker (sailing a 9) and Todd Willsie (sailing a 7) were battling out-front in the Aero Fleet. A number of high school sailors joined the Laser fleet, with Owen Timms taking the day, but us old guys took turns making him work for it. That's our story and we're sticking to it. 
Thanks to Tate Higgins for serving up a variety of hot pasta casseroles. Always great to chat-it-up while recovering after a full day of racing.
Frostbite #3 is on Sunday, December 9, 2018: 
Volunteers for RC Driver and for Food are needed. Lucy Jones is signed up for RC Assist. A second RC Assist is also welcome.
Volunteer here. Or directly contact Jacques Garrigues (RC Coordinator) and Glenn Wisegarver (F&B Coordinator) if you're unsure of what to do as they know how to make it simple.
To participate in a Frostbite Event register on-line at www.SeattleLaserFleet.org  If you are unable to register on-line bring cash or check.
(1)  All 6 race days for one low price of $70

(2)  Single race day fees are $20 for adults

(3)  Students thru college fees $5 per race day.

Note: Seattle Laser Fleet membership is NOT required in order to participate. Drop-ins are welcome